Shared Library Activity Feed
There are now two tools that allow you to view changes made to the EndNote library.
The first variant, the «Recently Added» group, applies to all libraries, while the second, «Activity Feed», only applies to shared libraries. None of these reflect the changes made in the EndNote online interface.
Recently Added
You get an overview of the references that were last added to the library by clicking on the «Recently Added» group. By right-clicking, you can choose to view only the references added to the last 24 hours, the last 7 days, the last 14 days or the last 30 days.
Changes made by the library owner in the EndNote online interface do not appear in the activity log.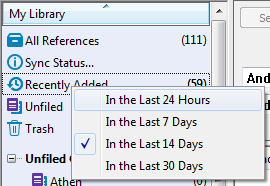 Activity Feed
An activity feed for shared libraries has been introduced to help you easily see who has made changes to an EndNote library. The log contains the last 500 changes made. You can access the log by clicking the «Activity Feed» icon,

.
This feature provides information on:
what kind of change it is (different icons)
who made the change (user name)
description of the change (what has been done and possibly how many references are affected)
Clicking on one of the lines in the feed will bring up the item(s) in question. If one or more references are deleted, information will appear.
Note that the activity feed is associated with the current EndNote library.
Each library has its own activity feed.